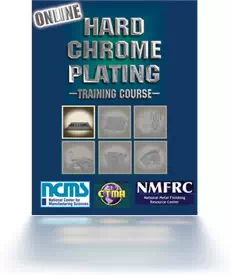 Hard Chrome Plating Training Online Course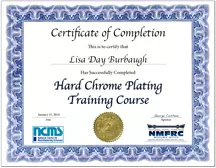 The Hard Chrome Plating Training Course book is just the beginning – complementing it is an interactive digital training course developed to enhance your learning experience and track your progress toward complete understanding of Hard Chrome plating. By completing this on-line course, you will receive a personalized Certificate of Completion from the National Center for Manufacturing Sciences (NCMS) and the National Metal Finishing Resource Center (NMFRC). Featuring over three hours of original art, animations, and plating shop video, the online course closely follows the book and also includes much information beyond what's found in the text. While using the online course, learners also have access to a digital version of the Hard Chrome Plating Training Course book, allowing you to dig into technical details and refer to key appendices for a complete perspective. The course is self-paced and features open navigation, so users can go through everything in order, visit specific sections of interest, or jump around however they like.
The online course includes knowledge checks after each section and a final quiz covering all the topics at the end. Your quiz scores are tracked by the system software and you can check on your progress at any time. Also, you can improve your scores by retaking quizzes.
This is a subscription-based digital learning course. A subscription is valid for one learner, and lasts for six weeks. Subscribers to the course log on using a unique username and password. Access information will be sent within one business day of purchase and the six-week period of access begins at the time of the first login.
The Hard Chrome Plating online course is compatible with Windows, Macintosh, and Linux-based PCs with a high-speed internet connection and web browser*. Adobe Flash Player 10 and speakers or headphones are required to run the course.

*Supported browsers include Internet Explorer 6 or above and Mozilla Firefox 2.5 or above. Google Chrome is not officially supported but users have not reported problems with it. Safari and Opera are not supported, nor are any mobile browsers that do not support Flash.