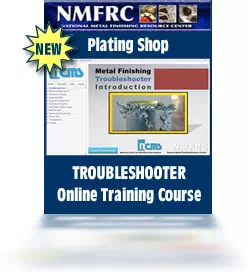 Plating Shop Troubleshooter
The Plating Shop Troubleshooter was developed to help platers (both novice and more seasoned) trouble shoot potential quality issues and quickly identify solutions to correct the plating process to correct the cause of the problem. The Troubleshooter was designed based on the best knowledge of plating professionals in both commercial and defense industries. It covers multiple metals (chrome, cadmium, copper, nickel and silver). It is an easy to use, online clickable guide. You choose the metal being plated, identify the problem you observed (photos are available for many of the typical problems listed for reference), review the most likely cause or causes and click to see corrective action or actions to mitigate the problem. The cost of the online Troubleshooter includes usage for up to a year and is renewable.
A subscription is valid for one learner, and lasts for one year.